LOGOI Ministries has always loved the opportunity to take a few "SideRoads." Sideroads are those unexpected little adventurous detours we love to take as we move along to our destinations. It's often the "SideRoads" we remember most when we recall our journeys. LOGOI is no exception.
For some 40 years, LOGOI's destination has been to train and equip national Spanish pastors to effectively teach and preach God's Word. For thousands and thousands of Spanish pastors, we are the "place to go" when they need help, advice, and encouragement.
Along this journey, however, God has blessed us with some amazing side-road adventures. We love to remember our wonderful side road trips with prominent ophthalmologists who so lovingly cared for the eyes and vision of hundreds of pastors and leaders along our travels. While many may have forgotten the day's lesson, they will all remember the joy Dr. DeHaven and Dr. Young provided through their skilled hands and suitcases full of glasses.
We remember the joy of taking family and friends to Cuba with suitcases full of every-day supplies such as aspirin, soap, and toothpaste, and returning home with only the clothes on our backs. I will never forget the side road I had the privilege of sharing with my daughter in Peru visiting church families living in poverty-stricken shantytowns. I watched as my beautiful little girl took the shoes off her feet and gave them to a little girl in need, then sob on the bus ride back to our "luxurious" hotel. A life changing side-road.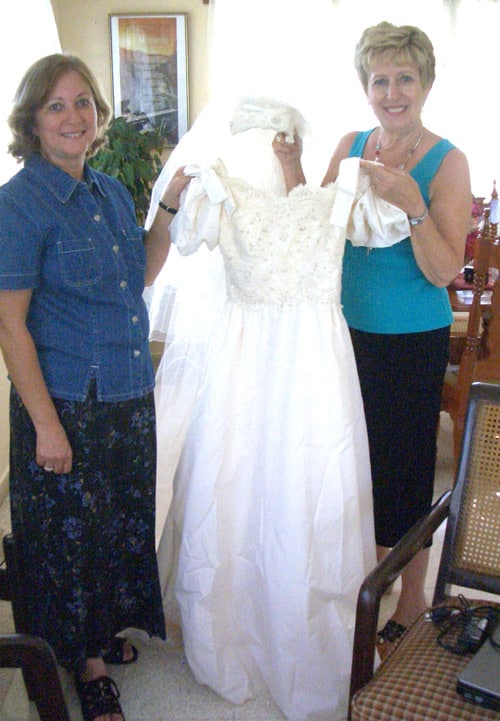 More recently, LOGOI's SideRoad adventures have found us bearing wonderful gifts of wedding dresses. Church partners here in the U.S. contacted us to see if anyone needed a wedding dress. A simple phone call later to a national pastor in our path revealed with astonishment how they were praying for God to provide a wedding dress. I suppose you wouldn't be surprised to learn that the dress fit the bride perfectly. (By the way — this dress will be passed from bride to bride within that community!)