IT IS A HOT AFTERNOON here in Pinar Del Rio but anticipated rain showers will bring welcomed relief.  We have been in Cuba barely four days now, but with all our activity, it seems much longer.
We arrived in Havana with close to 800 pounds of extra luggage, all of which we plan to leave behind—including the suitcases themselves.  As we go about our primary business of training, equipping, and encouraging national pastors and leaders, we always look forward to our "side-road-adventures."  So an extra 800 pounds or so was needed.
In a previous trip, we found an amazingly talented musician named Moíses.  He learned to play on a broken down upright church piano that could no longer be tuned, but the beautiful music he was able to create made us stop and listen the first time we heard him play.  We brought a very special gift for his church in our 800 extra pounds: three octaves of brass handbells worth thousands of dollars here in the States.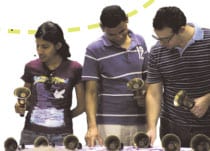 I remember all too well lugging those heavy hand bells around growing up.  They were part of the musical "Thompson Family" act and were used relentlessly every summer as we toured the country. So it was with great joy to lug them around one final time and bring them to a place where their distinctive sound will ring out praises to our Lord through open church windows onto the streets of Havana.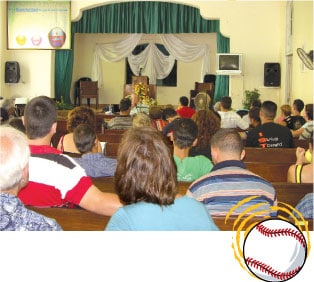 Broken-in baseball equipment and uniforms made up another part of those extra 800 pounds. Miami's Westminster Christian and Macon, Georgia's First Presbyterian Day School donated complete sets of beautiful uniforms and equipment.  Others joined in with bats, baseballs and gloves—all of which are very difficult to find let alone purchase in Cuba.
OUR GOAL was to find church teams who were using baseball as an outreach. Our search didn't take long.  Before my Dad, Dr. Les Thompson, began his first teaching session, he mentioned our goal of finding church baseball teams.  We couldn't help but notice the sudden excitement on the face of the young man sitting next to us.  (You're already way ahead of me aren't you.)  Yes, as it turns out, he played on the baseball team at his church.  He hurried out of the church and returned a bit later to tell us that his pastor and his uniform-less baseball team would be in the church lobby a few hours later.
What were the "chances" we would be sitting next to this particular young man in a town we have never been to who knew exactly what we were looking for on a hot Wednesday afternoon in Cuba? These are moments when I am convinced God just sits back and has a great laugh.  So there we were, a few hours later, handing over baseball uniforms and equipment to a group of ecstatic baseball players and their youth pastor (and coach).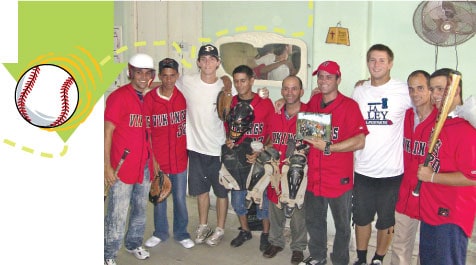 BUT HERE'S WHERE IT GETS REALLY EXCITING. You see, just three days earlier, the team had committed itself to prayer asking God for something that was totally beyond their ability to ever obtain. That's right, uniforms!  God is so awesome!
Our 800 extra pounds of luggage were quickly and joyfully finding their way to new homes but I'll leave you with just one more story.
This one involves a young pastor and his family who were asked to start a house church in a rugged area just outside Pinar del Rio.  We know it was rugged because our taxi drivers didn't seem all that pleased trying to get their vehicles up the muddy "streets" to find their house.  Furthermore, we had two 30-pound pigs I was certain were beginning to roast—bouncing around in the trunk.
The story begins a bit earlier when our primary contact, guide, and chauffeur was unexpectedly called back to Havana to explain to the government officials what all these "LOGOI people" were doing in Cuba.  (That's another story all its own with a great ending.) With our guide and chauffeur suddenly gone, we were now fully engaged in "missionary mode" – we had to improvise.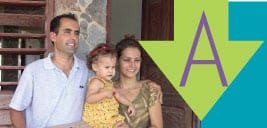 t the pastor's conference, I was drawn to one particular young pastor for several reasons:
(1) he was able to decipher my horrible, broken Spanish, (2) he said he lived within "walking" distance to the church, and (3) there was no doubt providing him a pig or two would be a great blessing and help.  He was an ideal candidate for our "Pigs for Pastors" ministry and we were excited to know two of the pigs we had purchased earlier in the day were about to find a new home.
We immediately realized "walking distances" in the USA and Cuba had entirely different meanings.  This pastor and his wife—pushing a small baby stroller—had to walk (I'm estimating) at least seven miles on very rough roads to get to the pastors' conference.  They just shrugged and smiled when asked about the long walk.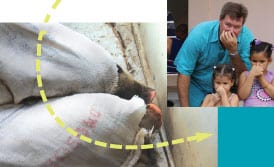 To my great relief, the pigs in the trunk fared well and were quite anxious to get out of their sacks—and the trunk. The tiny back yard was fenced in and a pen would be quickly constructed. Their home, which also served as their church, was small and very humble. About one dozen people are coming to the Sunday services. Then, during the week, another 30 or so attend Bible studies in other homes within "walking" distance.
Their love for the Lord and desire to reach their neighbors for Christ was bouncing off the walls. They know the hope and promise that only Jesus brings and their eyes sparkled with excitement as they spoke of their dreams and plans for their community.  We gathered in a circle to pray for them as we said our goodbyes.  Many hugs and handshakes with little gifts of love made for a tearful farewell.  We would soon be leaving—back to our "luxurious" homes with air-conditioning, hot showers and kitchens with sinks.  They would be staying—joyfully proclaiming the Gospel wherever their "walking" distances would take them.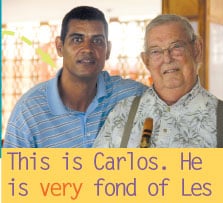 We will return humbled by the faith of those whose hope is fully focused on Christ.  We will return joyful for the help and encouragement we have been able to bring to a few.  We will return determined to continue helping our brothers and sisters in Christ in Cuba and elsewhere knowing it truly is making a significant impact.
We will return ready to tell the stories of how God is using LOGOI Ministries to train and equip pastors and leaders to reach their communities with the love and truth of Jesus.  We will return knowing that when we ask others to partner with us, it is money and time well invested in making disciples of all nations.
THANK YOU FOR YOUR PRAYERS.  THANK YOU FOR YOUR FINANCIAL SUPPORT. THANK YOU FOR BEING A PART OF THE MINISTRY OF LOGOI.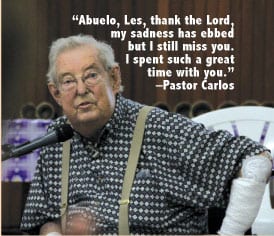 "That is why we never give up. Though our bodies are dying, our spirits are being renewed every day.  For our present troubles are small and won't last very long.  Yet they produce for us a glory that vastly outweighs them and will last forever! "
1 Cor. 4:16&17 (NLB)
Dear Eduardo,
Thank you for your report from Cuba.  I/we want to continue to be a part of making disciples of all nations in partnership with LOGOI.
I will donate online to be used where needed most.
Les Thompson teaching in Cuba.