Get Started
The Pastor as Theologian, part 1
By Rev. Dan Thompson Ph.D.
One of the most difficult things about being a pastor is that Sundays come around so quickly!  Week after week after week you study and prepare to preach.  As soon as a sermon is finished, it's time to begin preparing for the next sermon or lesson.  Sometimes people seem to understand what you're saying and you sense that God is using you to shape people's lives.  But often it feels like you have very little influence on the way people think or the way they live their lives.  It feels like your study and hard work in preparation to preach doesn't really matter all that much.  Then there's the nagging sense in your own mind that what you said in last Sunday's sermon may not really be what that passage of Scripture was teaching but just your opinions.  You remember the warnings in the Bible about those who teach incurring a stricter judgment, and you wonder if being a pastor is worth the risk!  What motivates you to keep preaching?  What keeps you going back to study the Bible week after week to prepare yourself for teaching and preaching and shepherding the people in your congregation?
I write as a fellow pastor.  I know what it is like to be discouraged in the task of leading a church family, and I know the joys of seeing people's lives transformed by the power of the gospel.  If I was not absolutely convinced that what I am teaching and preaching is the truth that people need to understand, and if I was not convinced that people are transformed by the renewing of their minds through the Spirit-empowered proclamation of the whole counsel of God (Romans 12:1-2), the battle would be too overwhelming and I would give up.  I've been a pastor now for 28 years.  I've experienced all kinds of ups and downs.  But I love being a pastor and I love the weekly study I have to do in God's Word to be ready to preach and teach.  I can't imagine doing anything else.  What other life calling forces you to devote yourself to growing in God's grace, to pursuing a deeper grasp of God's love, and to understanding things that are of ultimate importance with the same intensity that a pastor experiences in the weekly responsibility of study and preparation for the ministry of God's Word?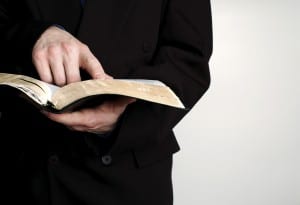 I face a spiritual battle every week.  I am fighting for the hearts and minds of men and women and the weapon I use is the Word of God.  "The weapons we fight with are not the weapons of the world.  On the contrary, they have divine power to demolish strongholds" II Cor. 10:4).  To wield that weapon well requires me to be a pastor-theologian – a diligent student of Scripture. "Do your best to present yourself to God as one approved, a workman who does not need to be ashamed and who correctly handles the word of truth" (II Tim. 2:15).  As a shepherd of God's people, I am called to protect the sheep from ravenous wolves and to feed the flock with life-giving truth of God's Word.  "Keep watch over yourselves and all the flock of which the Holy Spirit has made you overseers.  Be shepherds of the church of God, which he bought with his own blood.  I know that after I leave, savage wolves will come in among you and will not spare the flock.  Even from your own number men will arise and distort the truth in order to draw away disciples after them.  So be on your guard!" (Acts 20:28-31).  What is taught in the church matters!  The truth can easily be distorted.  The gospel message is definable.  There are non-negotiable truths that must be proclaimed boldly and taught clearly.  "This is why I left you in Crete, so that you might put what remained into order, and appoint elders in every town as I directe4d you – if anyone is above reproach, the husband of one wife, and his children are believers and not open to the charge of debauchery or insubordination.  For an overseer, as God's steward, must be above reproach.  He must not be arrogant or quick tempered or a drunkard or violent or greedy for gain, but hospitable, a lover of good, self-controlled, upright, holy and disciplined.  He must hold firm to the trustworthy word as taught, so that he may be able to give instruction in sound doctrine and also to rebuke those who contradict it" (Titus 1:5-9).
Words like theology and doctrine turn people off in our generation.  "Theology" sounds dry and dusty and impractical.  A man in my church recently said, "We're a bunch of sheep.  Sheep are dumb.  Don't give us doctrine.  Just tell us about Jesus and tell us what to do."  He wanted my teaching and preaching to appeal directly to people's emotions and wills – "tell us stories that move our emotions, and tell us how we should live."  While I believe the Bible instructs Christians in how they should behave, and while I believe worship should stir our hearts emotionally, there is also intellectual content to the gospel that people need to grasp.  It is the truth of the gospel that should stir our hearts and move our emotions!  It is the wonder of God's love for us in Christ that should move us to respond to God with obedience.  It is an awareness of who we are in Christ (Romans 5) that should motivate us to pursue godliness.  Without this foundation in the truth of the gospel, feelings can be stirred up, but people won't be changed.  The feelings will fade and we'll have to come up with some new way to stir people up again.  Without a deep grasp of our union with Christ by God's grace (Romans 6) and without the confidence that we have been adopted as God's children and given the Holy Spirit to change our hearts (Romans 8), people may try hard to do what God commands when the pastor tells them what they should do and what they should not do, but real transformation by God's Spirit won't happen. The biblical pattern for moving people's emotions and for stirring people for behavioral change is through the mind – people must understand biblical truth in such a way that it stirs their hearts and moves them to respond to God in obedience.  "Therefore I urge you brothers, in view of God's mercy" (which Paul has described in Romans 1-11) "to offer yourselves as living sacrifices, holy and pleasing to God – which is your spiritual worship" (Romans 12:1).  The right response to all that is true about us in Christ is to give ourselves to God with all our heart, soul, mind and strength.  Worship, in this sense, is doing everything for God's glory and in gratitude to God for his grace in Christ.  "Do not conform any longer to the pattern of this world, but be transformed by the renewing of your mind.  Then you will be able to test and approve what God's will is – his good, pleasing and perfect will" (Romans 12:2).  Changed thinking, informed understanding of God's Word, will motivate people to change, it will lead them to understand and love what God has commanded.  God's good, pleasing and perfect will in this context means what God has said in the Bible about how he wants us to live.
If I want people to experience the kind of transformation Paul is describing in Romans 12:1-2, they need to hear and grasp the truth about God's mercy that Paul describes in Romans 1-11.  Those chapters are full of doctrine.  Paul is preaching to the Christians in Rome (see Romans 1:7-8 – he assumed they were already Christians).  What do these Christians need to hear if they are to grow and change to become more like Christ?  They need to hear the gospel! So in the first eleven chapters of Romans, Paul preaches the truth to them, the gospel message that he preached everywhere as an apostle of Jesus Christ.  He didn't avoid difficult issues or shy away from saying things that might sound offensive to people (the truth about their sin, the truth about their inability to reconcile themselves to God by their own efforts, the ongoing struggle with sin they would experience and how that would drive them to deeper dependence on Christ for grace, the evidence that God's Spirit was at work in their lives, etc.).  He makes it clear how God can be just and still forgive and be reconciled to sinful people.  Paul believed people needed a firm grasp on these foundational truths.  This is the good news that needed to sink deep into people's minds and hearts.  They needed sound doctrine.
Preaching sound doctrine should never mean boring people with irrelevant information.  What is more relevant than the deep truths of God's Word?  When I talk about being a theologian, I don't mean your teaching should become abstract, boring, hard to understand, and full of unrecognizable, technical words or Latin phrases.  Teaching people sound biblical doctrine means teaching people what God has said about Himself and about what ultimately is true about life and death.  Theology is the study of God and his self-revelation in the Bible.
Early on in my work as a pastor, I decided I would preach systematically through books of the Bible.  There were a couple of reasons for this:  (1) It is hard work to have to choose a different topic every week.  It made more sense to work through a reasonable portion of Scripture, then pick it up the next week where I left off.  Every passage would have a main idea – a topic.  But I didn't have to choose which topic to preach about.  The Bible chose it for me, and that allowed me to know ahead of time what I would be preaching about in the coming weeks.  (2) I could not avoid the more difficult subjects in the Bible that I would probably never preach about if I didn't have to do my best to explain the next verses in the passage I was preaching through.  That forced me to study and dig deeper.  It forced me to grow as a theologian, searching to understand how all the parts of the Bible relate to the whole message.  Some parts of Scripture are clear and easy to teach.  Other parts, like Romans 9 and 10, are difficult and unpopular.  Instead of giving people uncomfortable excuses about what predestination and election means (you can't avoid these concepts, for example, if you preach through the whole book of Romans or through the whole letter to the Ephesians), you are forced to think through what it means.  Do your conclusions agree with other passages that talk about this subject?  How is it a comforting truth?  How does it give you a greater appreciation for who God is?  How is this truth a practical help for people?
Paul says, "All Scripture is God-breathed and is useful for teaching, rebuking, correcting and training in righteousness, so that the man of God may be thoroughly equipped for every good work" (II Tim. 3:16-17).  A theological approach to pastoral ministry takes these words seriously.  My people need to understand everything God has said – not just the easy to understand things, but even the difficult things.  I need to understand these things if I'm going to grow in my relationship to God.  My children need to wrestle with the truths contained in all of Scripture.  I must devote myself to diligent study.  I must be willing to grow as a theologian, as one who studies the things of God.
[A pastor] "must hold firm to the trustworthy word as taught, so that he may be able to give instruction in sound doctrine and also to rebuke those who contradict it.  For there are many rebellious people, mere talkers and deceivers, especially those of the circumcision group.  They must be silenced, because they are ruining whole households by teaching things they ought not to teach…" (Titus 1:9-11).  Teaching that is not sound, that does not line up with the overall teaching of the Bible, will ultimately hurt people – and I don't want to be the one misleading people by distorting the Word of God in my teaching.  I have to devote myself to being as accurate as I can be in my preaching and teaching.  My congregation needs more than my personal opinions, encouragement to feel good, and joyful exuberance.  They need the truth!
But how do I know if what I say about a passage of Scripture is sound doctrine or contradictory opinions?   The good news is that I am not the first pastor to preach on whatever book of the Bible I am using.  I can read sermons, read commentaries, and read books that discuss the ideas presented in the passage.  There is no better way to learn than having to figure out an answer to a difficult problem when you face it.  I find that I am very motivated to read and study when I need to respond to an issue that has been raised in the church or to what I consider unsound teaching that is confronting people in my congregation.  Something doesn't sound right.  Something doesn't seem to fit with the overall teaching of the Bible.  In those situations, I am motivated to dig for answers, and I grow!  To learn anything, you first have to recognize what you don't know!  And none of us knows everything there is to know about God or about living the Christian life.  Growth in understanding involves an interaction of life experience and the pursuit of deeper knowledge.  There are sufficient and satisfying answers to the questions life raises (I may not be able to understand everything God does, but I can have good reasons for believing God is trustworthy and good).  It is the privilege of a pastor to study and search for those answers so he can help his people who are facing difficult situations, and so his own heart can be satisfied.
Sometimes as I read what others have written on the passage I am studying, I find myself drawn to an idea that nobody else has expressed (at least none of the books I have available to me confirm the conclusions I have drawn from the passage).  I have learned not to trust myself or to teach my people that a passage absolutely means something when nobody else has ever come to that conclusion.  It could be that I am the first person in history to really understand what one of the biblical writers meant in a particular passage.  But I doubt it.  I want to be very careful in that kind of situation.  If I am really convinced that what I think the writer is saying makes the most sense of the passage, I tell my people that I have come to the conclusion that the writer may be saying such and such, but that I am not sure that's what he meant.   I think my congregation appreciates that kind of honesty.  By sharing with them some of my struggle to understand the meaning of a passage, they also are learning that they can study the Bible for themselves.  I am not the expert they need to listen to.  I want them to listen to the voice of God speaking through Scripture and to trust that God will guide them into an understanding of the truth too.
Prayer is also vital in theological study.  I can and should trust God's Spirit to lead me into a better understanding of His written word.  I don't just need God to work on Sunday morning when I'm preaching.  I need God's Spirit to work in my life all week as I study and prepare.  I recognize how desperately I need God to give me understanding, and I pray: "Lord, I don't know what this means.  You have promised your Spirit will guide your people into the truth.  Help me understand what this means and how it fits with all that the Bible says about this subject.  Open my eyes that I might see wonderful things in your Word.  Give me a delight in the truth."  Use all the resources you can, but ultimately, rely on God's Spirit to lead you in your study.  Plead with God to work through the preaching of His Word, but also plead with him all week to lead in the study of His Word.
Because theology is simply the study of God, it is reasonable to say that theology is life.  There is nothing more important in life than knowing God.  There is no more significant pursuit than growing in depth of insight and knowledge of God: "But grow in the grace and knowledge of our Lord and Savior Jesus Christ" (II Peter 3:18).  This is a pastor's life calling:  "Follow the pattern of sound words that you have heard from me, in the faith and love that are in Christ Jesus.  14 By the Holy Spirit who dwells within us, guard the good deposit entrusted to you" (II Timothy 1:13-14).  The practical fruit of pursuing a sound understanding of what the Bible teaches is that you will be protected from passing fads in the church, from fruitless tangents, and from misleading ideas that harm the church.  "If you put these things before the brothers, you will be a good servant of Christ Jesus, being trained in the words of the faith and of the good doctrine that you have followed.  Have nothing to do with irreverent, silly myths (I Tim. 4:6-7).
There will always be new winds and waves of teaching that confront the church, popular ideas that excite people and draw a following.  There will always be people in the church who won't put up with sound doctrine.  People in the church will ask you to preach what others are preaching and to move the church in the direction of some influential teacher who is popular and draws a large following.  A pastor's calling is not to be popular or draw a large crowd.  We are called to be faithful in the proclamation of God's Word, to hold fast to that message and to train our people to understand the truth of the gospel. "Command and teach these things.   Let no one despise you for your youth, but set the believers an example in speech, in conduct, in love, in faith, in purity.  Until I come, devote yourself to the public reading of Scripture, to exhortation, to teaching. Do not neglect the gift you have, which was given you by prophecy when the council of elders laid their hands on you.  Practice these things, devote yourself to them, so that all may see your progress.   Keep a close watch on yourself and on the teaching.  Persist in this, for by so doing you will save both yourself and your hearers" (I Timothy 4:11-16).
All this involves the pastor, inescapably, in the task of theology.  There is God-given, understandable, reasonable and beautiful content to the gospel message.  And it is the responsibility and privilege of the pastor to devote himself to a growing understanding of the truth given in God's Word.