Get Started
GP Biography 14: The Truth About Santa Claus
by Ed Thompson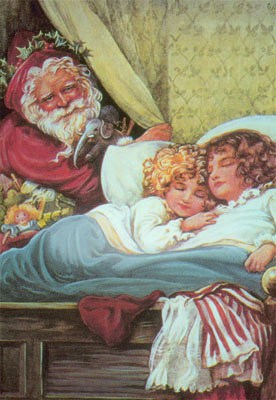 'Twas the night before Christmas, when all through the house
Not a creature was stirring, not even a mouse;
The stockings were hung by the chimney with care,
In hopes that St. Nicholas soon would be there.'
So begins one of the world's most beloved Christmas poems. Of course, I have never heard of a house where everything was calm and quiet on Christmas Eve. For many of us, that is the busiest day of the year!
I remember many a Christmas Eve spending long, frustrating hours into the wee hours of the morning trying to put various toys and gadgets together. Like the deluxe six-bedroom, three story dollhouse a loving, but misguided Grandmother had purchased for my daughter. "I bought it," she said handing me a thick set of blueprints, "so you put it together." She had been soundly sleeping for hours before I got the first floor done.
On Christmas morning, my daughter played with it for a total of three minutes before deciding the ribbon tied around it was far more entertaining. I've informed Grandma that all future gifts must include a certified contractor or come pre-assembled.
But it is from this famous poem, penned in less than one hour on Christmas Eve over 175 years ago, that our modern day idea of Santa Claus was birthed. And by the way, there really was a Saint Nicholas!
He was a remarkable man, a Bible-believing pastor. His life and ministry so impacted others, that he inspired the very idea of Santa Claus, someone who unselfishly gives to others. But most importantly, St. Nicholas was a servant of Jesus Christ.
Nicholas was born in the fourth century in a beautiful Mediterranean coastal city of Myra (modern day Turkey). Myra was an important shipping and trading post for the mighty Roman Empire.
The Apostle Paul himself first brought the Gospel message to Myra during a mission journey. Nicholas' great-grandparents were among Paul's converts. They built the church of Saint Paul as a living monument for future generations to worship the Lord and preach redemption through Jesus Christ.
The faith of Nicholas' great-grandparents was handed down from generation to generation and so it was that Nicholas was born into a strong Christian home.
His parents were wealthy land owners and farmers who faithfully taught him the Bible. He learned that the church is Christ's body on earth and is responsible for carrying on His mission. Nicholas especially loved the stories about Jesus and how He healed the sick and cared for the needy.
When Nicholas was a teenager, his parents' health began to fail. During a worship service, his father died peacefully while praying in church. His mother survived only two days more.
The death of his parents quickly changed Nicholas from a boy into a man. He was now in charge of his family's properties, farms, and workers. He was a wealthy young man, probably no more than seventeen.
Searching for guidance and wisdom, he spent as much time as possible at church and in prayer. The words of Christ to the rich young ruler penetrated his heart, "If you want to be perfect, go, sell your possessions and give to the poor, and you will have treasure in heaven. Then come, follow me" (Matthew 19:21).
As Nicholas struggled with what God would have him do, he learned of a nobleman who had lost everything, leaving him unable to pay for his daughter's dowry. (In those days, a father had to provide an adequate dowry or his daughters could not marry.)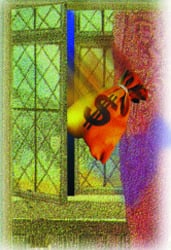 One of the daughters decided to sell herself into slavery to provide a dowry for her sister. When Nicholas heard of their predicament he secretly found their impoverished hut and in the middle of the night, tossed a bag of gold through the window.
At a later date, he tossed in another bag of gold so the second daughter could be married.
When it was time for the third daughter to marry, the nobleman was so determined to find out who his secret benefactor was that he tied a string around his house attached to a bell. Sure enough, as Nicholas crept up to the hut with his third bag of gold, the secret alarm sounded and Nicholas was caught.
The embarrassed Nicholas made the nobleman promise he would not tell, but the secret was short lived. Word spread quickly that it was Nicholas who was responsible for this, along with hundreds of other good deeds he'd performed in secret over the years.
Because he was now a "marked man," to accomplish many of his activities, Nicholas would disguise himself so he could walk the streets and personally assess the needs of others. Then he would sneak back at night and toss food, clothing, or money —whatever was needed— through windows.
Some reports claim he sometimes dropped his gifts down chimneys…
As Nicholas walked the streets of Myra, imagine his mix of sadness and joy when coming upon someone in desperate need. Sadness, because of their desperate plight. Joy, because he knew God could use him to significantly help.
Who do you think was most blest?
The recipients had no idea where their provisions came from. As far as they were concerned, the Lord answered their prayers and met their needs. Indeed He had. The joy Nicholas felt from his acts of kindness and mercy clearly set the path for his life. He dedicated himself —and all he had— to serve Christ by helping others.
To prepare for a life of ministry, he went on a pilgrimage to the Holy Land. He traveled there for three years, learning, preaching, and ministering to the needy.
Shortly after Nicholas returned to Myra, the well loved and respected local bishop died. Finding a replacement would be a difficult task.
Reportedly, the head of the church council was told in a dream to appoint Nicholas as the new Bishop of Myra. While most would not recommend this particular method for calling a new pastor, it worked rather well in this case.
Nicholas was roughly twenty years old when he accepted the appointment as Bishop of Myra. The year was around 300 AD.
Pastor Nicholas quickly became known as a staunch defender of the faith. When the evil Roman Emperor Diocletian passed an edict to imprison or kill all Christians, Nicholas summoned his congregation to the church.
"Brethren," he began, "the day has come that will be our greatest glory or our blackest shame. By God's grace, we may now discover what in ourselves is chaff, and what is good wheat."
Knowing the severe persecution that was about to begin, he called on Christians to stand firm. "In the name of Christ who suffered death upon the cross for us, be strong unto death for Him."
Tradition holds that Nicholas was dragged from his church, publicly beaten, tortured and imprisoned. Christians were scattered and churches throughout the provinces were burnt to the ground.
It wasn't until Constantine the Great conquered the Western Empire and decreed an end of all persecution of Christians that Nicholas was released. He was roughly forty-five years old when he returned to Myra, but severe persecution gave him the appearance of a man of sixty-five.
Nicholas quickly returned to ministering to his flock, now greatly reduced in number. Their needs were many and Nicholas led the way in caring for them.
He knew the importance of a faith that works. He felt it was his responsibility to meet the needs of his parish and continued his practice of secretly helping others.
He also began teaching about the great joy of helping others in secret (Matthew 6:1-4). Soon, others were following in his footsteps, seeking no personal rewards or recognition.
Upon his death, many of the citizens of Myra quietly continued the tradition established by Pastor Nicholas. When people asked where their provisions came from, they were told: "It must have been Saint Nicholas!"
As the practice of secret giving grew, so did the legend of Nicholas.
Sailors from around the world arrived at Myra's seaport. Before long, Italian sailors took the story and practice back to their homeland and giving in secret began to spread throughout the Western world with St. Nicholas receiving the credit.
When the story and practice reached Germany, the old saint's name was translated to Saint Nicklaus. From Germany, the story and tradition was carried into Holland. In the Dutch language, his name became Sinter Klaus.
The Hollanders brought the tradition to the New World in the early 1600's. In America, Sinter Klaus was changed to Santa Claus. The fame and inspiration of Saint Nicholas continued to grow.
So it was that on a cold Christmas Eve in 1822, a man named Dr. Clement C. Moore was doing some last minute shopping. Dr. Moore was a distinguished professor of Greek and Hebrew at General Theological Seminary in New York City. His wife had been preparing food baskets for some poor families and was one turkey short.
While rushing after it, Dr. Moore saw his Dutch caretaker, Jan Duychinck. Jan was a short stubby man with a big red nose, a bowed mouth, two perfectly placed dimples, with a pipe clenched between his teeth.
Dr. Moore and the Dutch caretaker stood in the briskly falling snow talking about Christmas and providing meals for the poor. It was that Christmas Eve when Jan shared the fascinating story of Saint Nicholas with his landlord.
"Each Christmas," the Dutchman said, "Hollanders pull a sleigh-driven statue of St. Nicholas along a parade route." He explained how children line the streets anxiously waiting its arrival and the special person dressed in red and white —like a saint— passing out gifts."
Dr. Moore became so inspired by the story; he raced back to his house and began writing a poem. When Saint Nicholas was described in the poem, he drew a word picture of his Dutch caretaker.
His eyes – how they twinkled his dimples how merry!
His cheeks were like roses, his nose like a cherry!
His droll little mouth was drawn up like a bow,
And the beard on his chin was as white as the snow;
The stump of a pipe he held tight in his teeth,
And the smoke it encircled his head like a wreath;
He had a broad face and little round belly,
That shook when he laughed, like a bowl full of jelly.
In 1860, an artist named Thomas Nast painted a picture of Santa Claus for a New York newspaper based on Dr. Moore's poem. In 1931, the Coca-Cola Company updated the image and began using Santa Claus in an advertising campaign.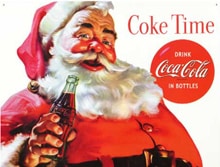 Today's modern world of commercialization has given the idea of "Santa" a persona of its own. In fact, Santa has become one of the most famous and recognized characters in the entire world.
But wonderfully, the spirit of unselfishly giving to others, taught by the real Saint Nicholas, lives on.
Isn't it interesting that in general, the world is kinder, more peaceful, and more generous at Christmas time? During this season, people smile more, hug more, laugh more. Even crime rates drop during the Christmas season.
Because Christmas is truly about Jesus, not "Jolly ol' St. Nick," Christians often disagree about what to do about Santa.
But God himself established the symbol of giving at Christmas. He gave to us, unworthy as we are, the greatest gift of all time.
And the gift of Jesus was the reason the original Saint Nicholas of Myra dedicated his life and possessions to helping others. He could give unselfishly and in secret, because he was giving in the name of Jesus, not Nicholas.
While today's world may try to shove Jesus aside at Christmas, His spirit quietly and joyfully lives on in those who put greed and selfishness aside to give as God gave.
"And suddenly there was with the angel
a multitude of the heavenly host praising God and saying:
'Glory to God in the highest,
And on earth, peace, good will
toward men.'"