Get Started
How to Enjoy Life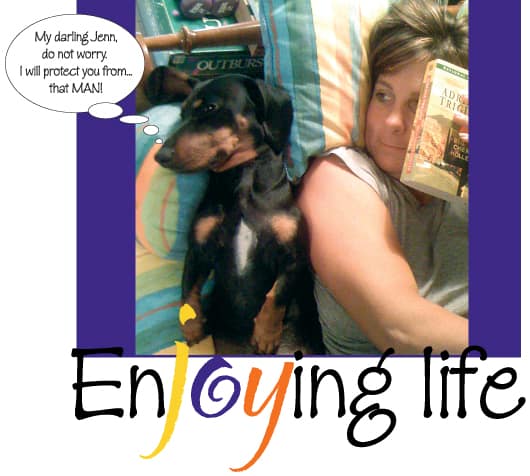 Our dog, Bentley, has fallen deeply in love with my wife, Jenn.  He has also become rather protective of her.  I found this out the hard way when I leaned over to give Jenn a kiss while Bentley was lying beside her.  Instead of the nice soft embrace of my wife's lips, I got a face full of Bentley, who with amazing quickness and agility, sprang between my face and hers and pushed me away with his long, wet nose.
I jumped back with a start and stared at this crazy dog who was now suffocating my laughing wife under his protective paws.  Not one to easily give up when it comes to getting a kiss from my wife, I leaned over once again searching for her lips.  This time, Bentley started barking and positioned his long body completely over Jenn's head.
By this time, Jenn was laughing hysterically and Bentley-the-Protector was barking madly to keep me away.  The battle was on.  Man versus beast.  Passion versus protection.  Crazy dog versus desperate husband wanting a kiss.
I cautiously circled the sofa. Bentley stared at me with his big, black eyes with Jenn safely secured under his paws.  Tail wagging, he watched my every move.  When the moment was just right, I jumped in, scooped Bentley up in my arms, ran the yapping dog into the other room with the tile floor.  I put the frantic dog on the tile floor, held him back from running, and took off for the sofa to retrieve my kiss.  As I ran toward Jenn, I could here the clatter of Bentley's toenails flailing wildly on the tile floor desperately trying to get traction so he could beat me to the couch.  His spinning legs gave me just enough time to race back to Jenn and win my kiss.
Man had won over beast once again.
Oh, the simple pleasures of life.  Playing with a dog.  Working hard for a kiss.  Laughter. The list of ways to enjoy life is truly endless.
I am amazed by the entire concept of joy.  It's interesting, for example, that "joy" is both a noun and a verb.  My dictionary defines joy—the noun—as, "intense and especially ecstatic or exultant happiness."  Joy—the verb—is defined as, "to take great pleasure; rejoice" as well as, "to fill with ecstatic happiness, pleasure, or satisfaction."
I recently heard a wonderful message on creation.  I was enthralled when the pastor suggested that God may have "sung" the world into existence.  Of course, we have no idea if this is the case, but I love that imagery.  Just imagine the beauty and joy of God's voice singing as he creates stars, galaxies, and you and me…into existence.
Like love, joy is a part of God's very essence.  "God is love" as much as "God is joy."  The two are inseparable.  The Tyndale Illustrated Bible Dictionary explains that joy is a "quality, and not simply an emotion, grounded upon God himself and indeed derived from Him."  Perhaps that is why famed author and professor, C.S. Lewis, described his conversion and ultimate belief in Christ, by simply saying, "joy."
I have a friend who is battling cancer.  Through emails, he keeps me up-to-date on what is going on through the various stages of treatment.  He has endured many surgeries, medications with terrible side effects, long hospital stays, difficult setbacks, and endless doctor visits. Watching him fight this terrible disease is a reminder that none of us are immune from trials, sorrows, disappointments, and frustrations.  "What a blessing," he says, "that I have a basis for which I can experience God's love, joy, and peace regardless of my situation."
The famous preacher, Charles H. Spurgeon once said, "When you speak of heaven, let your face light up with heavenly gleam.  Let your eyes shine with reflected glory.  And when you speak of hell—well, then your usual face will do."
So, here's hoping more and more faces "light up with a heavenly gleam."  After all, there are far too many walking around with their "usual face."