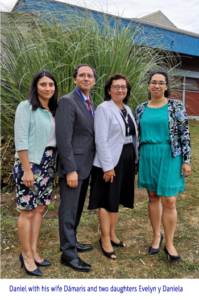 Do you prefer your salmon pan-seared or grilled? Among the many health benefits of eating salmon are its high B vitamins (which help your brain and nervous system), it's a great source of protein (protecting bone health) and can even help in lowering the risk of heart disease. Another benefit: it tastes great!
Chile is one of the world's largest salmon producers. Its primary seaport and hatcheries are located in Puerto Montt. Nestled within this beautiful seacoast city is a great fisherman named Daniel González. Rather than catch fish, however, he is following Jesus' call to his disciples, "Come, follow me," Jesus said, "and I will make you fishers of men" (Matthew 4:19).
Meet Pastor Daniel González, Senior Pastor of Pentecostal Methodist Church in Puerto Montt. "I shepherd a church where my father, Orlando González, was pastor until he went to be with the Lord in January of 2019. My father was a great friend of Dr. Les Thompson (LOGOI's founder) and helped Dr. Les introduce LOGOI's Bible courses (FLET) to southern Chile in the 1970s. What an honor to continue their legacy of 'fishing for men.'"
Pastor Daniel explains, "The texts and topics covered by LOGOI's ministry continue to be very helpful in my ministry. LOGOI's Bible resources are trustworthy and ideal reference materials. They also provide solid on-going help, guidance, and biblical perspectives as I teach and preach the Gospel to our congregation."
Pastor Daniel is married to Dámaris and they have two adult daughters. According to their church's FaceBook page, some 2,500 regularly attend. He has one prayer request: "Godly wisdom to lead my family, myself, and my congregation to fall more and more in love with Jesus."
It is a great honor to be a part of Daniel's ministry. His recipe for "fishing for people" is found in God's Word. If you'd like a favorite Chilean Salmon recipe with Pasta and Pesto, just click HERE."

---
Your gifts are used to help train and equip national missionaries like Daniel to help proclaim the Gospel and make disciples all over the Spanish speaking world. Now you know a little more about one of them.