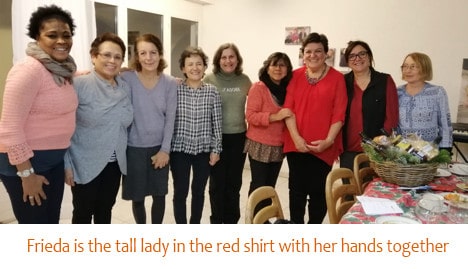 When you think of a meeting place for Spanish speaking ladies to get together for a Bible study, chances are Switzerland will not come to mind. But think again, because Zürich, Switzerland is exactly where you'll find Frieda Schewendener-Molina and her group of a dozen or so Latin ladies.
We first met Frieda back in 2015 when she began downloading LOGOI Bible resources. It was our first connection from Switzerland and, of course, we had to get in touch.
Frieda is Hispanic and married to a businessman in Switzerland. She loves the Lord and was certain there had to be others like her living in Zürich. Not knowing how to get in touch with other Hispanic ladies, she decided to put a sign up in her husband's furniture store announcing plans for a Spanish ladies' Bible study group. Within days, ladies started contacting her filled with the same joy and excitement of getting together, studying God's  Word, and staying connected in their beautiful native language and culture.
Frieda writes: "I love our women's Spanish Bible study group. We share God's Word, pray and help each other. LOGOI's great Bible resources serve me so well. Thank you for having such good Bible study material to share with the Spanish world — even here in Zürich." 
Would you be surprised to learn this story has repeated itself in places like Japan, Israel, and even in the Middle East? We have the joy of helping "equip the (Spanish-speaking) saints" (Ephesians 4:12) all over the world. That should make you smile and thank the Lord for being a part.

---
Your gifts are used to help train and equip national missionaries like Frieda to help proclaim the Gospel and make disciples all over the Spanish speaking world. Now you know a little more about one of them.