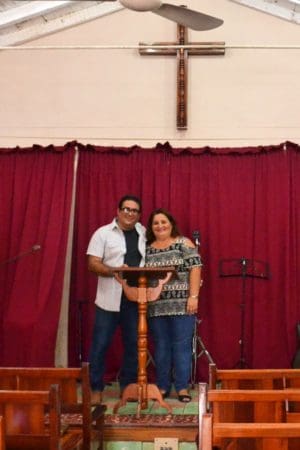 Meet Orel and Oraidys Hernandez (we wish we could hear you try and say their names). They live in Santa Clara, Cuba where Orel is the pastor of Los Pinos Nuevos La Vigia church.
La Vigia church is bursting at the seams and not just because it measures roughly 20 feet wide by 80 feet deep. You'll need to be prepared to sit "cheek to cheek" with roughly 200 others crammed tightly together on a Sunday morning. And you'd better be prepared to sing because of those 200 smooshed together in the little church, 64 of them are children who love to sing at the top of their lungs.
Orel and Oraidys are graduates of the Los Pinos Nuevos Seminary as well as LOGOI's FLET Bible school. Dozens of LOGOI's Bible resources and textbooks are part of the curriculum and training at Los Pinos. Orel and Oraidys know the LOGOI resources quite well as they also teach at the seminary. NOTE: You may recall the seminary was founded by Elmer Thompson (Ed's grandfather) and it is where Les Thompson (Ed's dad and founder of LOGOI) was born and raised.
All who attend La Vigia Church live within walking distance of the small chapel. It does not have a second room nor even a bathroom, and the hot and humid Cuban climate is "air-conditioned" only by a handful of fans. But no one seems to mind. Orel and Oraidys love their church family, and it shows. Besides, when it comes to learning about Jesus, there is always room for one more.
Please pray for Orel and Oraidys and their bursting-at-the-seams congregation in Cuba. May God continue to bless them with even more neighbors coming to the tiny church which so joyfully proclaims the Good News.

---
Your gifts are used to help train and equip national missionaries like Orel and Oraidys to help proclaim the Gospel and make disciples all over the Spanish speaking world. Now you know a little more about one of them.