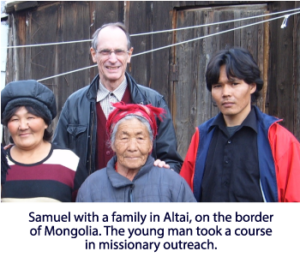 I continue to follow with great interest the history and on-going ministry of LOGOI. My first encounter with LOGOI was with Les Thompson when I lived in Argentina in the '60s. We produced radio programs, and we frequently used his music. A little later LOGOI books began to appear, which were also very much appreciated.
After living almost 40 years in the Spanish world, we returned with my family to Sweden, where the Lord oriented my life to work with the persecuted church in the Soviet Union which was disintegrating. For almost 25 years we have worked with churches and local ministries to train leaders in the "Institutes for the Great Commission" (Institutos de la Gran Comisión) to reach ethnic minorities in Siberia, Caucasus, Central Asia and zones of great conflict which are usually very difficult to achieve.
Through our modern technology today I have recently been able to reconnect with the ministry of LOGOI. While I am not presently teaching in Spanish, I am using and studying your material as I work with ethnic minorities here in Sweden. My gratitude to the Lord and you for these resources. Wishing richest blessings on all of you in the ministry. From Sweden, with love, Samuel Forsberg.

---
Your gifts are used to help train and equip national missionaries like Samuel to help proclaim the Gospel and make disciples all over the Spanish speaking world. Now you know a little more about one of them.