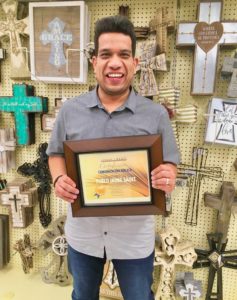 P.J. Sáinz, a LOGOI national missionary lives on the border of Tijuana and San Diego. He has liberal arts degrees from San Diego University and Santa Barbara College but is especially thrilled to be a LOGOI student taking our online FLET Bible classes. He has already completed one Bible course and is eager to begin another.
P.J. is a journalist with extensive credentials and is dedicated to finding ways to use his talent to serve the Lord. A very timely book he has recently completed is titled, Our Citizenship is in Heaven: Devotions for Immigrants. (Nuestra ciudadanía está en los cielos: Devocionales para immigrantes.)
In October, Sáinz launched "Excelentísimo Teófilo," an online Spanish-language Christian magazine. As part of LOGOI's family, he would be thrilled to hear from you. Don't worry, he speaks perfect English, too.
As immigration issues and news come to your attention, please pray for P.J. Perhaps you would even like to help him get his devotionals to more immigrants.

---
Your gifts are used to help train and equip national missionaries like P.J. to help proclaim the Gospel and make disciples all over the Spanish speaking world. Now you know a little more about one of them.