I need a lot of Kleenex these days. Returning to Cuba where Les was born and raised was an amazing gift. Our trip was filled with much joy and sentimental tears.
Here is 11 year-old Misael. He loves Bible conferences because he gets to play with many other pastor's kids. I enjoyed getting to know him as I couldn't help but think of Les living there when he was this age. I gave him one of our wooden car gifts and he sent this sweet note: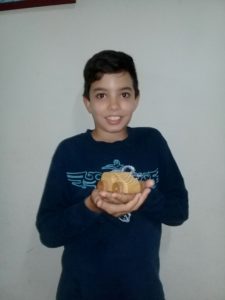 Hello New Grandma,
Thank you so much for your love and for the little car. Each time I play with it I think of you. I'm glad I got to know you. Thank you for your prayers.
A kiss from Cuba,
Misael
And then his folks wrote:
Blessings Sister,
It gave us great joy to get your email. We live in Artemisa, a little pueblo called Cayajabos. We pastor a small church of about 70 people.
Thank you for giving us your friendship. Misael is so happy with his new Grandma Carolina. Keep praying for us. May the grace of God be with all of you at LOGOI.
In the love of Christ,
Milko, Yaila y Misael
Please join me in praying for our brothers and sisters in Cuba. They work with so little resources and yet the joy of the Lord is their strength — every day! They are a constant example to us all of faith and service to our Lord.