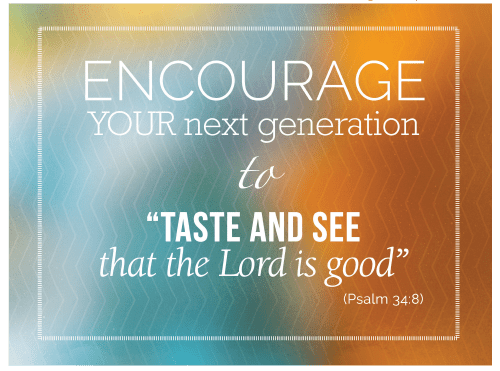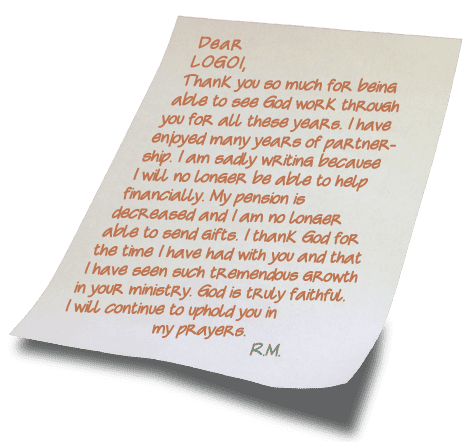 BACK IN AUGUST OF 1961, Les and Carolyn Thompson met a kindly couple where a 53-year partnership would begin. The couple had modest means, but were intrigued with the young, newly married couple and took on a bit of financial support and the promise to pray.
Early this month, we received a short, handwritten note from the 86-year-old wife of this kindly couple. She has been widowed now for 14 years and in correspondence with Carolyn, shared her joy, peace and comfort knowing she is held firmly in God's loving care.
I share her letter with you because it is a testimony of God's love and faithfulness. But also, because it poignantly reminds us of our need for the next generation to fill their shoes. So I have a simple challenge for you: encourage YOUR next generation to "taste and see that the Lord is good" (Psalm 34:8).

 E ARE PRAYING the Lord will replace our 86-year-old ministry friend with a brand new partner in ministry. Someone who, like her, loves the Lord and wants to experience the joy of being actively involved in "making disciples of all nations." We developed FiveDollarMission.com as a tool to help the "next generation" have an active and meaningful part in the Great Commission. As I write this letter to you, I'm thrilled with an email we just received. It's from a young lady starting an athletic apparel company. She wrote, "I LOVE the FiveDollarMission.com concept" and went on to explain how she has been looking for ministries to support through their product sales. How cool is that? Needless to say, we're interested, too. So as one generation hands the baton off to the next, there is great hope. After all, we serve the same God who talked to Moses, blessed David, and raised Lazarus from the dead. That's why we love to say, "See what God can do with just five of your little dollars." So I'm asking for your help in introducing FiveDollarMission.com to the next generation. You can for example:
add a personal note and give this to a friend or relative.
encourage a son, daughter, or grandchild to visit FiveDollarMission.com
"like" us on www.facebook.com/fivedollarmission and share us with your family and friends.
50-year friendships are truly a gift from God. Perhaps the Lord will now use you to start the next 50-year partnership. We know 50 years is just a short gust of wind, but relationships like these last…
---