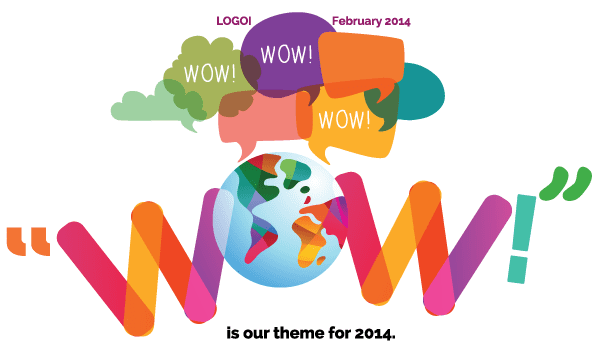 It's the idea and expression we want to hear from the national pastors/missionaries we serve as well as from you as you serve Christ with us. We want you to have an amazing and blessed experience as you interact with LOGOI's ministry so you can't help but say, "WOW!"
Easy, right?
It begins with our LOGOIgram currently being delivered to some 7,500 national pastors and missionaries every week. It is our direct connection with those we serve and the catalyst for the other aspects of our ministry. Our LOGOIgram is good and well on its way to becoming the "WOW!" we're looking for. To say it another way, we want people to be upset if they missed their LOGOIgram.
Likewise, we are looking for big "WOWs!" regarding our Five Dollar Mission plans. We haven't fully introduced this to you yet…but when we do, we're really hoping for some "oohs and ahhs." The plan is simple: "For $5 a month, you can support a missionary overseas!" What you'll discover is that our $5 national missionaries—men and women who were born and raised there, already live there, already speak the language, and are already surviving financially—can be as effective (or even more so) than an international missionary.
And when I say our $5 national missionaries cost a fraction of the cost of a traditional international missionary, I'm not kidding. According to the Southern Baptist Convention, the average cost of just one international missionary in 2013 was $52,000. In comparison, our $5 national missionaries cost, well, $5 per month. That's a whopping $60 a year­­. "WOW!"

ne of the reasons LOGOI's cost is only $60 compared to the $52,000 international missionary annual cost, is that we do not pay for any on-going living expenses. The $60 we invest is for their weekly Bible resources and training.

So how do they survive financially? Just like us, virtually all of our national missionaries have "normal" jobs. They work in factories or in an office, drive taxis or wait tables. Some are doctors, lawyers, and even judges. Their occupations vary as much as ours and their incomes and lifestyle are commensurate with their local economy.  So we get to focus in on their Bible training: equipping, and helping them so that lives are changed as the Good News is proclaimed and the truth about God's amazing grace is made known. "WOW!"
So here we go! Already into the second month of our new year.  What does God have in store? In his book, The Prodigal God, Tim Keller explains that the dictionary does not define prodigal as "wayward," but rather as "recklessly spendthrift" or "to spend until you have nothing left." So I think he summarizes it well when he explains:
"Jesus is showing us the God of Great Expenditure, who is nothing if not prodigal toward us, his children. God's reckless grace is our greatest hope, a life-changing experience."
That life-changing experience is our hope and prayer for you, for me, and for those to whom God gives us to impact through LOGOI's ministry. And as we introduce them to Christ and they discover our amazing Prodigal God, there's going to be a loud chorus of "WOWs!"
Your prayers and financial partnership are such an encouragement and blessing. Thanks for being a part of the team. I thank the Lord for you!
---