MANY YEARS AGO, I noticed a man living on the streets near my office.  I never saw him panhandling, although I assume he probably did.  Each time I saw him, he was sitting alone in the doorway of an old building as if far away in thought.  I couldn't help but wonder, "How did he end up in that doorway?"
It was the Thanksgiving season and in anticipation of family guests, my eldest son and I were cleaning up our rooms when I came across a pair of shoes I had seldom worn. For some reason, I thought about that man in the doorway.  In a bit of spontaneous goodwill, I quickly collected a bag of seldom worn clothes and shoes and enticed my then 10-year-old son to join me to see if the man in the doorway happened to be there.  He was.
He seemed much younger than I had expected as we got closer. I shuddered as I thought, "Could it ever be possible one of my kids would end up in a doorway like this?" We tried to engage him in conversation with the hope of possibly reconnecting him with family, but he focused in on the bag in my hand.
"That for me?" he finally asked, cutting my attempted conversation off without looking in my eyes.  When I acknowledged that it was, he said a curt "thank you," grabbed the bag, and quickly walked down the street and out-of-sight around the corner.
Over the years, I've helped fill the cups of various men and women holding "please help" signs at busy street corners.  No doubt you have as well. Doing so doesn't really hurt us at all and we usually feel pretty good about ourselves for doing so.  But I've noticed the people holding those signs are usually there the next day and then again the day after that and the day after that…
In Matthew 26:11 Jesus says, "You will always have the poor among you…" It wasn't long after saying these words that He would give himself up to die on the cross for you and me.  So while there is much going on besides this one statement, this truth is very obvious even today: we will always have the poor among us.

ometimes I wish LOGOI was called to do something more tangible like filling empty stomachs or helping a community get clean water. But then I'm reminded that the ultimate tragedy is not being poor, homeless, or even sick. The ultimate tragedy is passing from this world to the next without Christ. Jesus said it this way, "What do you benefit if you gain the whole world but lose your own soul?" (Mark 8:36).
Then, I think of our $5 national missionaries—thousands of them scattered throughout the Latin world—and I can't help but rejoice.  Yes, we are helping fill empty stomachs and we are helping provide clean water.  Our national missionaries are the "hands and feet" of our Savior investing their lives in ministering to the needs of others in Jesus' name in thousands of different ways.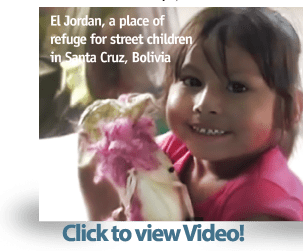 As a reminder, our national missionaries were born and raised there, can already speak the language, and can drink the water. Our national missionaries are "tent makers," meaning they are already making their own living somehow. LOGOI invests in their on-the-job Bible training, in providing much needed Bible resources, and in good old fashioned encouragement.  We do this at a remarkable cost of only $5 per month per national missionary.
We have $5 national missionaries in Bolivia providing shelter and safety to unwed mothers and their children. In Peru, $5 national missionaries are bringing food, clothing, and hope to people in desperate shanty towns. Our $5 national missionaries are ministering in prisons in just about every Latin country and in Cuba, close to 500 "new" national missionaries are completing a series of six LOGOI Bible courses designed to equip them to "build up the church, the body of Christ" (Eph. 4:12) in the communities where they live.
It's amazing what God can do with five little dollars.
In just a few weeks, I will once again be in Cuba.  I'm looking forward to checking in on many of our $5 national missionaries and getting personal updates on our P.I.G.s for Pastors ministry (where we help them set up little pig farms to help generate much needed extra cash).
This Thanksgiving, how about investing $5 in a handful of national missionaries?  Yes, it's only $5, but you know, God has always been very, very good at multiplication.
Happy Thanksgiving and God bless.
Forever!


Ed Thompson

Here is great way to support national and even traditional missionaries.  Rev. Kent Keller, a good friend and a gifted writer, has a wonderful book titled, "Random Observations of an Orderly Universe."  You will appreciate his insights and enjoy his sense of humor. And for a Thanksgiving sampler, I know you will enjoy reading this chapter from his book, "Everything I need to know about life I learned from a sleeping 15-month-old."  You can order a copy of this book by visiting www.lulu.com and searching for "Kent Keller." 100% of the proceeds go to missions—including a ministry called "LOGOI."
---