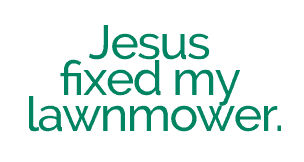 I realize that sounds sacrilegious, but it's true.  He did fix my lawnmower.  In fact, I see and talk to Jesus just about every day and believe me, it's quite comforting.  He's always warm and friendly, eager to listen and help, and is very good at fixing things.
He lives in the house next door.
A YouTube video suggested my lawnmower problem may be the carburetor, so while I was standing over my lawnmower wondering what a carburetor actually looked like, Jesus walked over to offer help.  He quickly found it, took it apart, cleaned it up, put it back together, and started it up.  My job was simply to stand there and offer words of wonder, appreciation, and amazement.
It's great living next door to Jesus.
Just like within the Hispanic community today, Jesus was a relatively common name back in the first century.  Historians and Bible scholars explain that Jesus is the transliteration of the name Yeshua (or Jeshua) from Greek.  From Yeshua we get Joshua or Jesus.  Yeshua means "Savior" or more specifically, the "salvation of the Lord."  Pretty cool.
Much has been written about how our name influences our character.  Psychologist Richard Wiseman says, "We have strong perceptions about first names and associate them with success, luck and attractiveness."
Perhaps that's why Amazon.com lists 32,727 different books about "baby names." One is titled, The Baby Name Bible: The Ultimate Guide by America's Baby-Naming Experts.
There are baby naming experts?
I decided I needed a detailed analysis of my name, "Edward."  The Kabalarian Society offers a very interesting and instant analysis which you can find here.  While much seemed like those generic horoscope comments that can be applied to just about anyone, anytime, there was much that rang true.  So I typed in my wife's name and then the names of my kids and found similar results.  They really blew it, however, on my dog's name, Buster.  The only thing they got right is how he tends to treat "new and unfamiliar ideas with skepticism."
Then, I typed in the name, Jesus.  While there were some things that could perhaps describe my neighbor, there was nothing there that described Jesus of Nazareth.  Of course, how does one go about describing whom the Bible calls, "Wonderful Counselor, Mighty God, Everlasting Father, Prince of Peace" (Isaiah 9:6).

ecently, we named the Bible resource electronic care packages we send to our pastors and leaders each week, "LOGOIgram."  It's simply a name we hope conveys a certain idea and expectation of all the Bible resources, help, and encouragement that is waiting for them in their email inbox.
Interestingly, every one of our LOGOIgrams is an attempt to describe Jesus and all that His name conveys. It's a wonderful task.
We've also recently started to use the name "national missionary" to describe the pastors, Bible teachers, youth workers, Sunday School teachers, and others whom LOGOI ministers to every day.  Our "national missionaries" already live overseas, they are already actively involved in helping others know Jesus' name, and for the most part, are already managing financially.
In other words, our LOGOIgrams help national missionaries proclaim the name of Jesus.  By the way, this costs $5 per month per national missionary.
We did a quick check and found that of the 9,628 national missionaries receiving a LOGOIgram this week, 96 are named Jesus.  So…how many national missionaries would you like to help this month?  It's amazing what God can do with 5 little dollars!
Meanwhile… back to my lawnmower.
My wife was out running errands and knew I was home trying to fix that lousy machine.  She called just after the repair work was done.  I must say I rather enjoyed telling her, "Jesus fixed my lawnmower!" There was a short pause and then she simply answered, "Amen!"