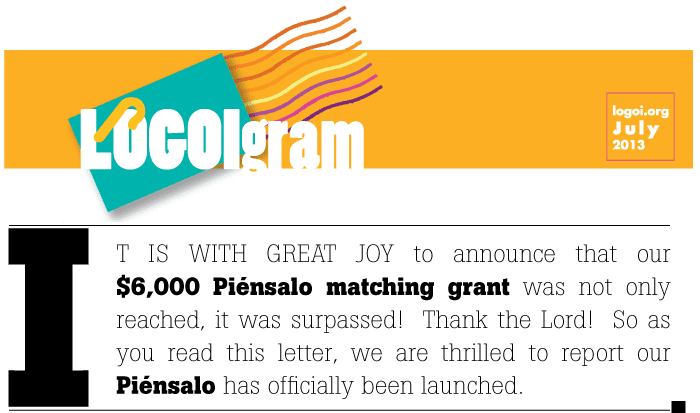 As a reminder, Piénsalo is simply the Spanish version of Steve Brown's popular, "You Think About That" 60 second radio broadcasts.  I searched far and wide for a booming Spanish voice similar to Steve's, but quickly realized it was fruitless.  But we did find a local Spanish pastor who dearly loves the Lord, is a big Steve Brown "fan," had some radio experience, and was willing to rise to the challenge. Plus, he's bald! His name is Albert Ixchu and you can learn more about him at his website. Also check out the English version of the first Piénsalo.
It is so great that LOGOI and Key Life Ministries have teamed up for this ministry opportunity.  Having grown up in Steve's church (Key Biscayne Presbyterian) where my Dad also served as the Assistant Pastor, this is especially exciting for me.  So now today, through LOGOI's network of pastors and leaders throughout the Spanish world, over 10,000 pastors and leaders are receiving Piénsalo!  We are now also contacting dozens of Spanish radio stations asking them to air these 60 second spots.
With the matching grant help received last month, all our start-up costs were covered.  Way to go!  Now, we just need to keep it going.  Our delivery system for Piénsalo is our Spanish LOGOIgram "Electronic Care Package."  Each LOGOIgram is filled with Bible resources, ideas, sermon outlines, counseling tips, Bible courses, on-the-job training, motivation… and now a Piénsalo.
All of this costs a remarkable (drum roll, please)… $5 per month per pastor/Bible teacher receiving a LOGOIgram.  Let's see any other Bible school or seminary touch that!  If I may brag just a little, that's a pretty big "bang for your buck!"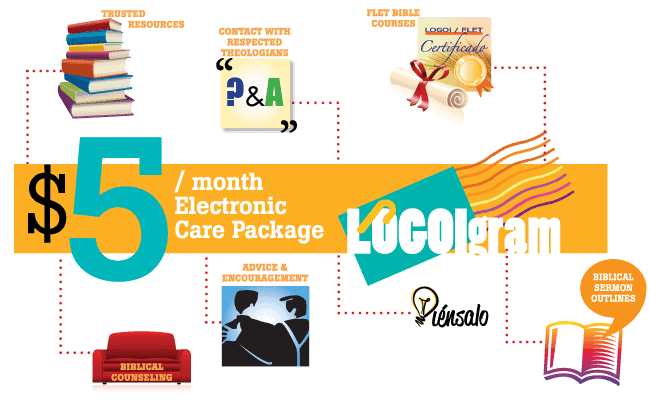 So as you support the ministry of LOGOI, keep in mind what God is doing through us with only $5! Also be grateful for modern technology that allows us to deliver so much for so little, and pray the Lord sends us lots and lots of $5!
Exciting things are happening here at LOGOI.  Our expenses are being kept as low as possible while our outreach is poised for explosive growth.  We are indeed very blessed by our Lord.  Yes, funds are very tight over these long summer months, but the Lord has given us great ministry partners who pray and give as the Lord leads.  Thank you for remembering us at this time.  We thank the Lord for you!
Forever!


Ed Thompson
President
P.S. If you are not receiving Steve's emails of these broadcasts, you can sign up for free a www.youthinkaboutthat.com. You will be glad you did!
---