But it's Valentine's month and so I'll be vulnerable.  First, I am a happily married, relatively athletic, ESPN addicted male who donated two knees to his college football team. I have watched all 53 Rocky movies. Plus, I drive a pick-up truck.  If that doesn't scream "all male," what does?
I have gone 50 years without a "male-icure" and was planning on going another 50.  Then, my daughter, Abby, came home after graduating from college.  She simply batted her beautiful eyes at me and all my tough manliness melted into some strange mango peel exfoliating sauce.
Here's what happened: we were enjoying a lovely Sunday afternoon on our way home from church when we passed a nail salon.  Before I could say, "microdermabrasion," my wife, daughter, and mother were climbing out of the car and dragging my manly son, David, and me into the salon.  I was anticipating handing over my credit card enabling the ladies in my life to indulge in a feminine nail clipping session while we men strolled over to Home Depot to look at chainsaws and bolt cutters. But then Abby batted her eyes.
The next thing I knew, our pant legs were rolled up and we were sitting in fancy massage chairs with our feet dangling in warm, jet propelled little foot Jacuzzis.  If that wasn't soothing enough, right about the time we found the right setting on our massage chairs to cause shivers to roll down our spines, tiny ladies sitting on tiny stools made for tiny three-year-olds began massaging our toes.  It was delectable.
While all my worries were floating away, I was then introduced to "paraffin wax."  I have no idea what it is, but I like it.  My calves and feet have never felt so good as when the tiny lady put that wax stuff all over them and wrapped them in hot towels.  The only real problem I had was with the "glycolic foot peel" and callous removal.  As it turns out, I have rather ticklish "glycolics" and just about knocked the tiny lady sitting on the tiny stool across the room with a karate kick I didn't know I had.

WONDER IF TOUGH-AS-NAILS PETER would have sat down long enough to enjoy a "male-icure."  Foot washing was certainly part of their time and culture.  But in those days, the ones doing the foot washing were the lowliest of servants. In fact, it was considered such a self-demeaning task, Jewish servants were recused from having to wash the feet of their Jewish masters.  So no self-respected person with an ounce of dignity would ever stoop so low as to wash someone else's filthy feet.
That's why the account of Jesus washing the feet of his closest friends–his disciples–was so shocking.  The accounts in Luke 22 and John 13 describe this occurring just before Jesus would give Himself up to be crucified.  He was with his closest friends who, oblivious to what was about to happen, are arguing about which one of them was the greatest.  Think about that for a moment.  They are in the same room with their Creator.  They are in the same room as the One who spoke their very world into existence.  They are in the same room as the One who would pay for all their sins, past, present, and future, and they are arguing about who among them is the greatest.  I wonder how long Jesus let them go on?
But instead of entering their foolish argument, Jesus reaches for the basin and starts washing their feet.  The silence must have been deafening.  There was Jesus, the only one in the room whose feet truly deserved to be washed, vividly demonstrating the extent to which Christian love for others will go.  Then shortly after, Jesus took that model of love, humility, and selfless service to the supreme level by His death on the cross.
In reading over these passages from Luke and John, I couldn't help but think how the Disciples would never again have their feet washed without thinking of Jesus.  The example of Jesus is why we serve others today.  It is why we support our church and why we give to missions.
In writing this letter to you, I've thought back about my experience and now wonder about the demeanor of Jesus when He was washing the Disciples' feet.  Was He happy?  Was He upset with those ornery disciples? Was He sad knowing what was about to occur?
Then these words of Jesus caught my eye, "I have given you an example to follow. Do as I have done to you" (John 13:15).  Jesus had to be happy.  There was no condemnation for those ornery Disciples. His demeanor was filled with joy.  He had to be smiling and enjoying the moment.  He loved them intensely.  He was giving them, and us, an example to follow.
One by one he took their feet, looked them in the eye, and with intense love and joy, demonstrated how to serve others.
I hope that when you give to Christ via the ministry of LOGOI, or any other church or ministry for that matter, you do so with the example Christ has given.  We're a bunch of ornery, rebellious people, but God loves and serves us anyway.  He has given us the example to follow.  Now go and "Do as I have done to you."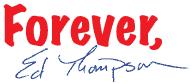 You might enjoy seeing my "Beautiful Feet" music video.  Use the qr-code or go to YouTube and search "Edthompsonlive.

---