I keep thinking I will be finishing with writing an annual letter… but Ed keeps asking me if my letter is written. So hello again and Happy 2013!
I have been discovering this year that even though I am alone and will forever miss Les, I am continuing on – even with joy in my heart and life. I tell everyone that when a low, sad time creeps up on me, I just have to remember all the blessings God has given me and I can't help but perk back up again.
Here are some things that have given me joy this year: All my grandchildren are becoming adults and branching out on their own. Most of them are in their 20's. That means graduations and jobs and – romance!  It is very exciting for Grandma to be in on all the news – sometimes sworn to secrecy!  With four married grandchildren, I have 10 more weddings to get to in the years ahead!
This year many of my grandchildren have been spread all over the world:  Grandson Daniel was working in South Africa until Christmas. Grandson Matt and his wife, Laura, live in San Jose, California and they seem terribly far away. Granddaughter Carolyn and her husband, R.J., have just come back from a two-year mission assignment in London, England. Their next stop is seminary in St. Louis.  Grandson Nathan graduated with an engineering degree last year; was immediately hired by a large construction company and is now working in North Carolina.
One of my sweetest Christmas gifts was finding out I will be a great grandma again this year! I don't know how anyone can be any sweeter than little Corinne, but I know all of us will be instantly smitten.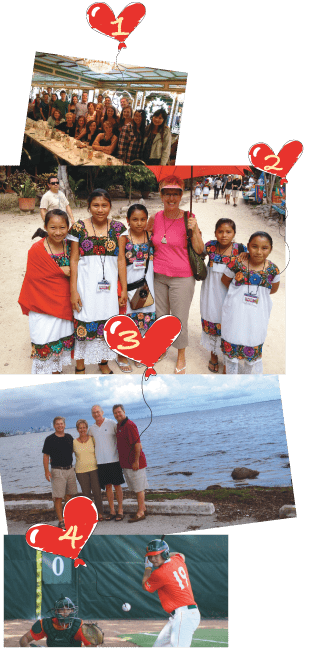 Another wonderful Christmas gift was giving each of my dear family a copy of Les's last book, "Letters to Carlos." I've told my family their Grandpa/Dad gets to "keep talking" to them through the pages of a book that is full of his personal stories, encouragement, and advice.  You can read it, too, by going to our website: logoi.org (HOORAY! You are here! Just click and read!)
While we are all in desperate need of God's saving grace and love, my great joy is seeing all my children and grandchildren seeking to follow the Lord.  We tend to think this world is hopelessly lost and impossible, but through the ages, God preserves His family and I am so glad to be counted as His child, along with my family.
Which brings me to another "NEW CAROLYN" thing starting up in 2013:  going out and speaking here and there, telling my story. Good heavens! I have NEVER done this before but here I go – with huge butterflies. Isn't it amazing how God can use us even when we wonder if we "can."  I know Les would be cheering me on.
Another love of my life has always been LOGOI.  I love hearing from Spanish pastors and wives, whom I consider my family, too.  As Les pioneered in providing pastors theological education without leaving their churches, Ed is pioneering with the modern electronic media that puts us in touch with pastors in places Les never dreamed of reaching. This new year, with God's help, we will have our materials and Bible courses available for "smart" phones and e-readers. And yes, these new electronic devices are being used throughout the world.  What a joy to be constantly getting as much biblical material on our website as possible.
Thank you for being a part of our LOGOI family and for remembering us with your prayers and partnership. May God give you all the joy you can contain in this new year, knowing, as David said in Psalm 16:11, "You will show me the path of life; in Your presence is fullness of joy; at Your right hand are pleasures forevermore."
Forever blessed and joyful,


Grandma Carolyn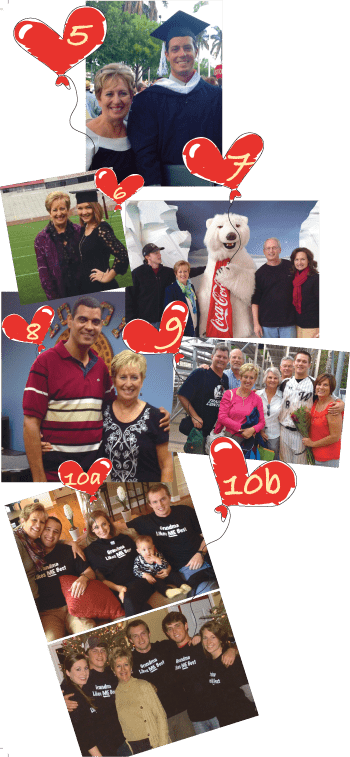 PS Here are some photos that review the year with my family.
1. Spring Break with Granddaughters Jessica and Dargan – and friends. My house was FULL!
2. Mexico with Ed and Jenn
3. Sons Ken, Gregg and Ed in Miami to help Mom with "man jobs" around the house.
4. Grandson David at UM ready to play football and baseball – I can holler as loud as anybody!
5. Grandson Daniel gets his Master's at UM
6. Abby and Grandma at her FSU graduation
7. Christmas with the Ken Family
8. Carlos from Cuba visiting Miami – discovering
"Letters to Carlos" is dedicated to him.
9. Carolyn, Ed, Dan, Jenn and her family at David's game
Some grandchildren "I love the most:"
10a. The Ken Family
10b. The Gregg Family (with Ken's Nathan)