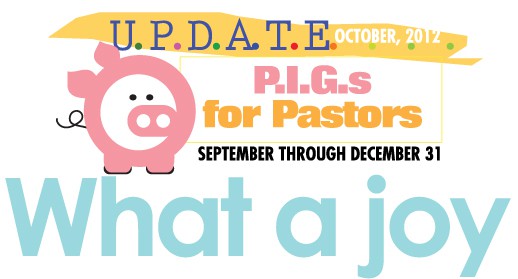 to report that our P.I.G.s for Pastors ministry is underway.  As you read this, the first of our P.I.G.s (Pastor Investment Gifts) funds have been sent to dozens of pastors in Cuba and Chile.  In fact, please take a moment and watch the very tender video of Pastor Carlos from Cuba. (logoi.org homepage, bottom right)  He was just in Miami and is returning to Cuba with P.I.G.s for 20 pastors…including himself.  The video will touch your heart.
As a reminder, the P.I.G. project provides $100 of on-the-job pastoral resources and Bible courses and $50 of cash.  The cash is a special gift of love given in Jesus' name (Mark 9:41) to help them in a time of need.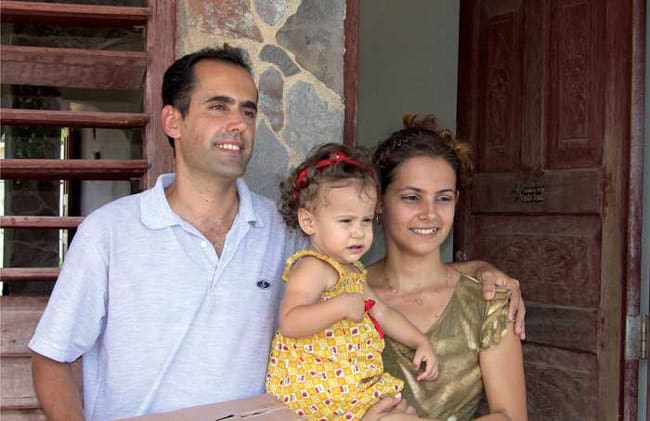 And to further whet your appetite, here are excerpts from an email we just received from Pastor Leonel in Cuba—a P.I.G. recipient. He represents just one of the 1,200 pastors we hope will receive a P.I.G. by year's end.  He wrote this sweet note to Carolyn who is helping coordinate all our P.I.G.s: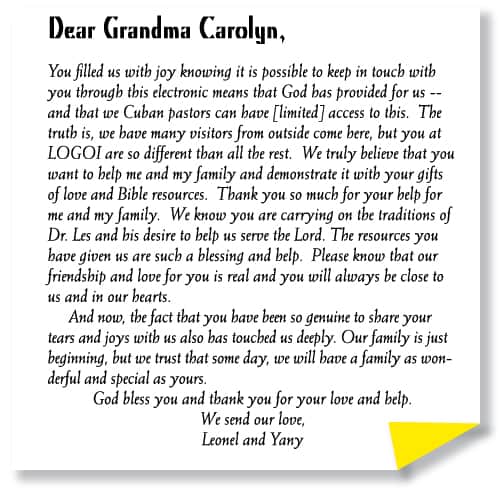 It was during my last trip to Cuba that a small group of LOGOI travelers were able to visit Leonel and Yany in their home.  Leonel and Yany were attending a LOGOI pastor conference and during a break, we jumped in a car to visit their home.  I was expecting a quick trip around the corner because I knew Leonel and Yany had walked pushing a small stroller with their beautiful baby.
With each passing mile, however, my heart sank.  The roads were terrible, winding, and barely passable in some areas by car.  It took us over 20 minutes to reach their very humble home by car with the last section climbing up a small hill.  I remember thinking to myself, "I would never walk that far…"
I had met Leonel once before and was impressed with his joyful countenance and obvious love for the Lord.  He had been asked to start a house church here in this city but was uncertain his pregnant wife would be up for the challenge­—especially since it was so far from their home and family.  When they arrived, however, she looked at him and said, "Unpack our things, I'm home."
Now I was standing in their home being poignantly reminded of what true faith in action looks like. Leonel told how his small group of a dozen or so people were meeting each week to learn about Jesus.  He told us of his dream to one day have an actual church where maybe 50 or 60 people could attend because his home could only hold maybe 20.
As our small group held hands and prayed, all I could think about was that our small P.I.G. gift was not enough.  When I was finally able to privately give our gift, all he could muster was to softly repeat, "Thank you, Lord."
Our P.I.G. project is designed for the Leonels and Yanys of our LOGOI family.  You should know that they never asked for a dime.  In fact, none of those receiving a LOGOI P.I.G. have asked for any financial help.  Rather, they have been identified by other pastors and leaders in their communities as someone who could "really use a P.I.G."
And we have the humble joy of being the delivery service.
So, with all my heart, I invite you to be a part.  Funds are pooled together until we have $150.  Then, we get to deliver these refreshing "cups of water" in Jesus' name.  Thank you in advance for being a part.  "Thank you Lord!"
[NOTE: Please visit LOGOI.org homepage to see the tender video of Pastor Carlos (lower right) and P.I.G. video (homepage at the top).]