Dear LOGOI Family,

It is with profound sadness that we announce the passing of our founder and director Les Thompson Tuesday, August 30, 2011.
Les was born in Placetas, Cuba, on January 12, 1931, and was ordained in 1953. After preaching controversial messages about Christ and communism, he was forced to leave the island of Cuba, which allowed him to start his ministry in Latin America with the founding of LOGOI Ministries, FLET (one of the first long-distance theological universities) and the Guía Pastoral. There are thousands—from Argentina to Mexico—whom Thompson's ministry has helped, which is why he will be remembered as the "Pastor who loved pastors."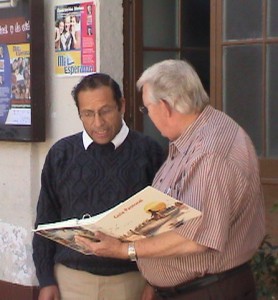 His extensive ministry continues now under the direction of his son, Ed Thompson, who continues to promote the training of Hispanic pastors and Christian leaders in the Western Hemisphere and beyond.
Our humble and loving leader has left a legacy of 14 books, hundreds of articles, sermons and lessons he authored, which are available in the vast virtual library at LOGOI.org.
However, his most important legacy is his beloved Christian family, which includes his wife of 50 years Carolyn; their sons Ken, Daniel, Gregg and Ed; and 14 grandchildren.
We are grateful beyond words for all the prayers and messages of love and support received during his illness.
LOGOI Ministries and the Thompson family
Messages continue to pour in about our beloved founder
"I've never known another man who Loved God like he did. His love for the Lord showed in his face and actions and today I can say that he instilled in my heart a profound and great love for God… I trusted him a deep personal secret here in Popayán, Colombia and I received comfort and peace from his words."
"He will be missed by thousands with whom he has shared the Gospel throughout the southern hemisphere. I feel I lost a friend, an encourager, and a brother."
"It was a privilege to have him among us as long as God allowed him; his works will continue to impact many lives."
"We regret to have lost a great teacher of the Word, a great companion in the faith, but mostly a great friend. We always admired his ability to share, how he was able to explain the most complex theological topics in a pleasant and simple-to-understand manner."
"He was a powerful instrument in the hands of our good Lord, as a model of surrender, godliness, service, a love for those who didn't know Christ and, above all, his desire that all of us pastors would be equipped to defend the Gospel under any circumstances."