FANTASTIC! WE HAVE 56 PIGS FOR CUBA!!! SHOULD WE STOP THERE???

NO!
We have roughly 10 days left before sending Dr. Les Thompson (along with his wife, Carolyn) to Cuba. HOW ABOUT ONE-A-DAY TIL THEN? At the invitation of the Los Pinos churches, Les is going to teach, strengthen, and encourage an estimated 600 pastors in five different cities. We want to send at least 50 (accomplished!) squealing pigs along with them—hopefully dozens more. The joy, relief, and encouragement this will bring to pastors and their congregations is enormous.
*Pigs are purchased on pig farms in Cuba and distributed by the local church leaders—starting with the most needy pastors and communities first.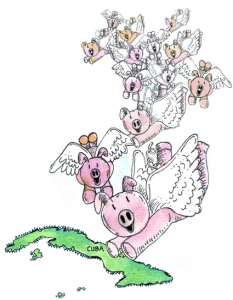 Stress and confusion are running rampant in Cuba. The government has just laid off some 200,000 workers. The sugar industry—once the engine of Cuban progress—is no more. Milk rations end the day Cubans turn seven years old. Resources remain scarce. Gasoline prices have jumped to $4.50 a gallon for diesel or $6.54 for higher octane. Yet the average Cuban salary remains at $20 per month. People are looking for answers. They are looking to the Evangelical Church.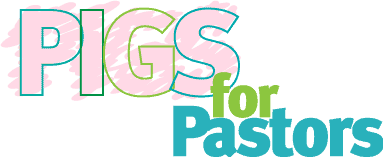 Without going into too many details, here's a reminder of how our "Pigs for Pastors" project works.
$150 per pastor enables LOGOI to:

Provide on-going pastoral training, help, materials and much needed encouragement—this time direct from Dr. Thompson himself—to a pastor throughout the entire year.
Buy him a pig. (The idea is to not eat the pig…at least not right away. Rather, pastors are to mate the pigs (twice per year) and then sell the piglets. In their economy, the funds collected from selling the piglets will help provide a basic means of sustenance. The roast comes later…

How many pastors and congregations would you like to help? How many pigs would you like to send? Only $150 to help equip, train, and encourage a pastor in Cuba – and buy him a pig.
Together, we can do this! Thank you in advance for faithful prayers and partnership.